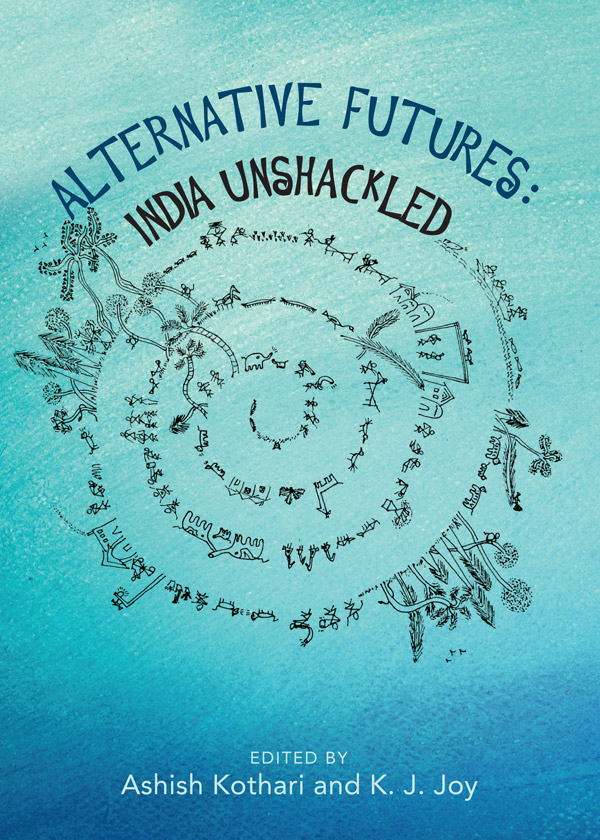 eBook available on
Print edition available on:
Alternative Futures: India Unshackled
We are delighted to present a freely downloadable copy of Alternative Futures: India Unshackled, as a full book and also as individual sections and chapters. This is to fulfil a commitment that we as editors and our publisher AuthorsUpFront had made when the book was published in November 2017. It will enable access to the book for those who cannot afford or for other reasons prefer not to have a hard copy. The printed copy will of course continue to be available. 
This book is a unique collection of 35 essays on India's future, by a diverse set of authors – activists, researchers, mediapersons, those who have influenced policies and those working at the grassroots. It brings together scenarios of an India that is politically and socially egalitarian, radically democratic, economically sustainable and equitable, and socio-culturally diverse and harmonious.
Since its publication, the book has been received well in critical reviews, as also in various circles where it has been noticed. Some universities in India and abroad have decided to put it into their recommended readings for students of various subjects.
Divided into four sections—Ecological Futures, Political Futures, Economic Futures and Socio-Cultural Futures—the book covers a wide range of issues including environmental governance, biodiversity, democracy and power, law, agriculture, pastoralism, industry, languages, learning and education, knowledge, health and sexuality among others. Most essays include both futuristic scenarios and present initiatives that demonstrate the possibility of such futures.
Please note that the book is published under Creative Commons licence, which means you can download, print, disseminate for non-commercial use, copy as you like, as also use material from the text in ways you feel appropriate, with due credit.
There is however one earnest request. If you do download, it would be nice if you put in a comment on why you are doing so, and how you intend using it.
Additionally, we'd love to receive your comments on the content, and on how (or if!) you have found it useful. You can write to us at chikikothari@gmail.com (Ashish) and/or joykjjoy2@gmail.com (Joy).
Thanks!